Coaches Corner
CrossFit Equipment
CrossFit gyms are known for cultivating strong community and even stronger athletes. The high intensity, high repetition workouts are designed to promote a full body workout using equipment that is not found in most gyms. Using every muscle group, CrossFit's short, intense workouts continuously change and use the equipment in different ways. In fact, CrossFit equipment is just as unique as the workouts themselves. If you're looking for more information on the specific types of CrossFit equipment we offer at DTC CrossFit, you're in the right place.
Top 5 Essential Pieces of CrossFit Equipment
DTC CrossFit utilizes a variety of professional-grade CrossFit gym equipment that offer flexibility and versatility for multiple different exercises. In addition to our top five list of essential pieces of CrossFit equipment we supply medicine balls, jump ropes, mountain climbers, and more. However, without these items listed below, most of our exercises wouldn't be possible. To properly train our members on how to use our equipment in a way that ensures their health and safety, we offer a wide variety of programs for all skill levels. If you want to learn more about DTC CrossFit, our community, and our equipment, inquire about our gym memberships today!
1. Dumbbells
There wouldn't be CrossFit without dumbbells. In fact, dumbbell workouts are a core piece of all CrossFit training programs nationwide. Even better, once you if you own a set of dumbbells, you can start building your basic collection of CrossFit equipment for home. At DTC CrossFit, we use dumbbells for snatches, tempo push presses, and thrusters. Dumbbells can be used for both upper and lower body core workouts and are typically made of iron and coated with rubber for comfort. Since dumbbells are popular in hotels and elsewhere, they make for a versatile way of staying in shape outside of CrossFit classes.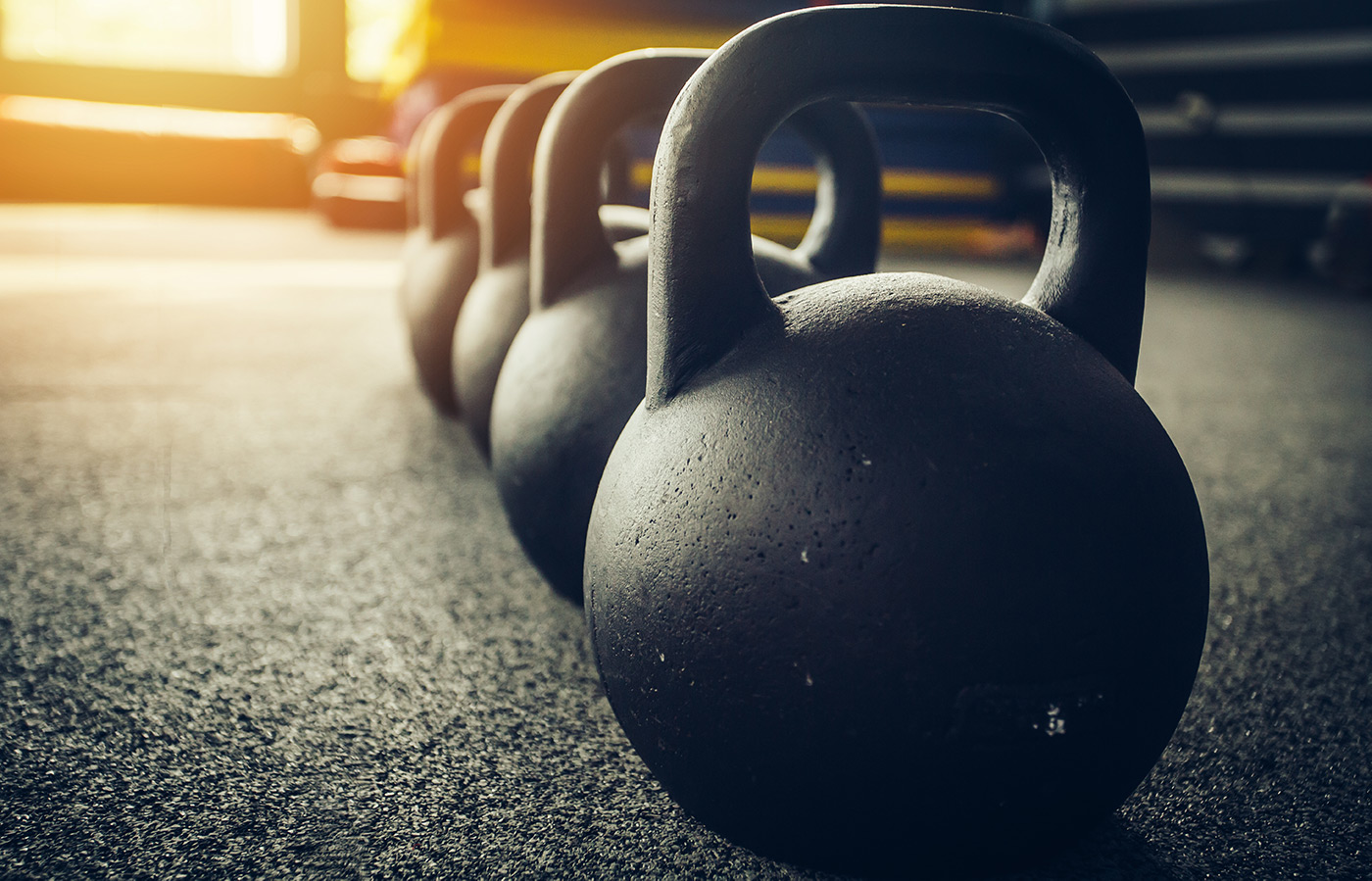 2. Olympic Barbell, Weight Plates, and Rack
The barbell, weight plates, and rack set up are some of the most essential pieces of the CrossFit equipment set up. At CrossFit, the Olympic barbell set up is used for squats, dead-lifts, curls, and more. Olympic barbells are typically heavier and longer than standard barbells and are designed to be more durable. Another unique feature of Olympic barbells is that they are designed to safely keep the weight plates in place without sliding down the bar. The rack is also a critical component of CrossFit gym equipment as it allows you to safely store a variety of weight options on-hand.
3. Rowing Machine
While most gyms have an abundance of treadmills and ellipticals, cardio at CrossFit's revolves around the rowing machine. The rowing machine is a central component of CrossFit equipment because it uses nearly every major muscle group in the body. This combination of muscle movement increases your heart rate and is more efficient and effective than running or biking. In fact, the rowing machine—the simulation of rowing in water—has been used to improve health since the 4th century BC when it was introduced by an Athenian admiral in Greece. Modern rowing machines are also ideal if you're looking for CrossFit equipment for home.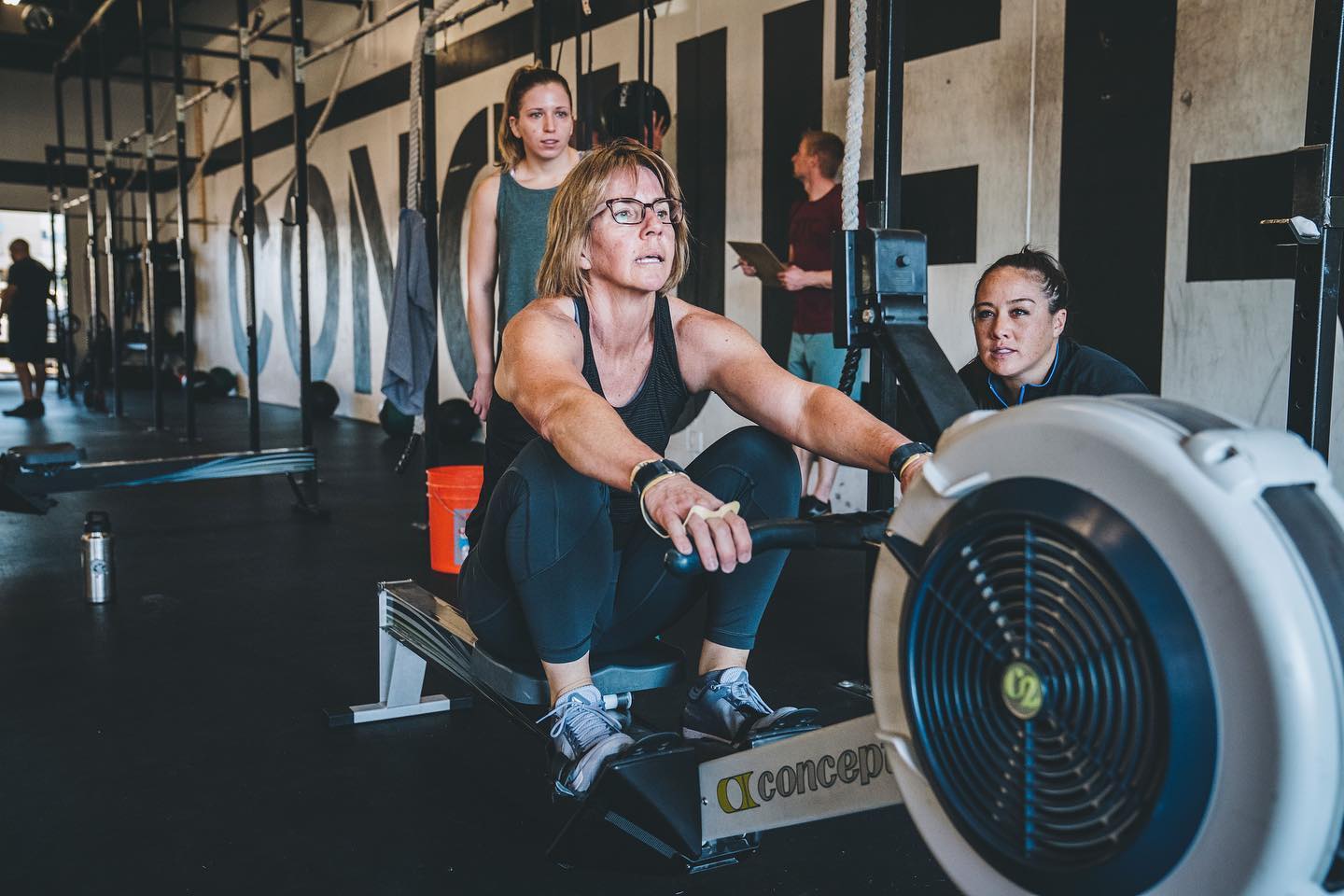 4. Medicine Ball
A medicine ball is weighted and serves an important role in physical rehabilitation, as well as weight training. Its versatility makes it a useful type of CrossFit gym equipment for medicine ball burpees, cleans, and slams These exercises all focus on working deeper muscles in your core and lower back. One of the benefits of medicine balls is that they can be relatively soft forcing your muscles to strengthen, while working on your body's balance and stability. Medicine balls also happen to be a convenient type of CrossFit equipment for home.
5. Kettlebells
At DTC CrossFit, we're all about kettlebells. In fact, kettlebells—cast iron steel balls with a single handle—are a necessary item of CrossFit equipment across gyms nationwide. They come in a wide variety of weight types which allows you to work on your personal fitness goals by incrementally scaling up. Kettlebell workouts like swings, snatches, and squats, generally improve cardio, stability, and endurance through simple motions. Using kettlebells, you can accomplish different objectives—from warming up for a training—to full body, intensive workouts.
Safety Floor Mats
Accompanying all of our CrossFit gym equipment are safety floor mats. Unlike typically gyms, CrossFit's timed workouts and high intensity routines mean that barbells, kettlebells, etc. are often dropped on the floor. The floor mats not only protect the floors from getting damaged in the process, but they add a cushioning to help promote joint health for our members. Additionally, they are easy to clean and sanitize ensuring the health of everyone in the DTC CrossFit community. Safety floor mats can also be used for simple workouts like crunches, planks, and stretching. For that reason, they're a popular piece of CrossFit equipment for home.
Proper Ways to Use CrossFit Gym Equipment
While we always encourage our current and future members to do their own research on proper form and technique for lifting weights, we think the best way of learning is in-person. Whether you've been training for a while or you're just getting into weights, lifting, and physical training, we want to ensure that no one is hurt in an effort to try to improve physical health. Reach out to us at DTC CrossFit if you want to know more about how to use barbells, kettlebells, rowing machines or other types of equipment we offer.
Contact DTC CrossFit Today!
Overall, CrossFit training and equipment is designed to provide the most effective training methods to improve your physical health. Our carefully curated daily workouts offer tangible results, so that you can meet your personal health goals efficiently. Whether you're an experienced athlete or a beginner, we've got programs for all levels of fitness. Our coaches are known for being supportive and inspiring and our community is getting stronger every day. If you have questions or want to get started in our CrossFit 101 program, contact us today.
Learn More About CrossFit
Interested in learning how CrossFit came to be? Check out The History of CrossFit Games.
&nbsp Back to Blog